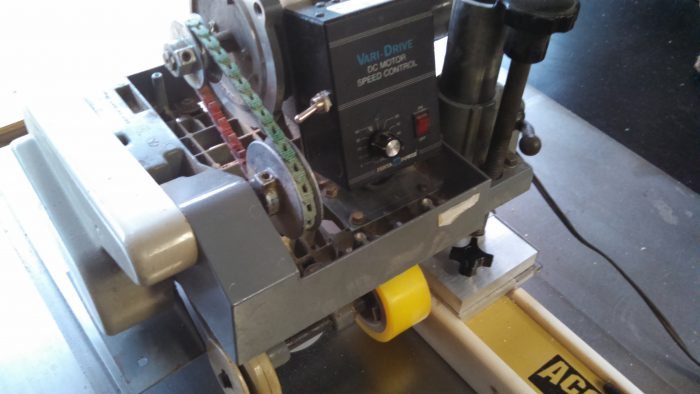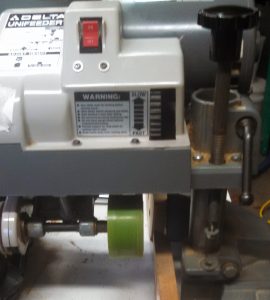 Some years ago when I started running large amounts of material on the table saw I decided I should get a feeder to improve the process.  Mindlessly running miles of lumber through the saw is no fun at all, and the danger of putting your hand into the blade increases with mental fatigue.  After looking at the options, I bought an old delta unifeeder off of ebay for about $350.  They stopped making them in the 1980's I think, so it was about 30 years old and it showed its age.  The original rubber tires had disintegrated, so I bought a couple new sets of polyurethane tires from Western Roller.  The variable speed mechanism was a reeves drive, whose slowest speed was still way to fast for my 1.5hp saw, I think they intended it to go on a saw with at least 3hp.  When trying to get the slowest speed possible I ended up breaking part of the mechanism, so I decided to just scrap the whole design and convert it over from AC motor to a DC motor and DC drive.
The original motor was 1/3hp so I got a 56 frame 1/3hp Baldor DC motor off ebay, and a KBWM DC drive for its small size, and a new set of pulleys (2.25″ and 3″) and some 3/8″ link belt (19″)  I had laying around.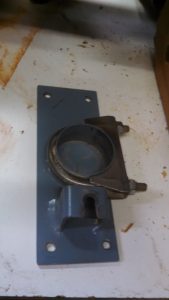 I had to make a simple L-bracket to hold the DC control up front.  I can get super slow speeds with plenty of torque, and still get super fast speeds for just taking a light skim off the edge of a board.  Goes from 0-60fpm, but I usually use it at 15fpm.
It is bolted to the table saw fence itself, my orignal bracket that I whipped up for this purpose was pretty rudimentary–just a exhaust pipe clamp and piece of exhaust pipe to hold the 1-7/8″ support post on the unifeeder, and a base plate to screw it to the fence.  The back end of the fence needs a hold-down device also to keep the fence from lifting up when the feeder grabs the wood.  At first I just used a Irwin quick clamp, but I eventually made a permanent bracket for that purpose.
The real problem with the mounting bracket was that if you wanted the feeder out of the way to use the miter slot or to just feed something by hand, it was a 30 minute ordeal just to get it off.  So, I came up with a hinged bracket design so that I could just swing the whole thing to the other side of the fence when I didn't need it.
I drilled and tapped 4 holes in the fence and the bracket is screwed to the fence, and the star knob holds it down when you are using it, and it is easy enough to unscrew the knob and flip it up.  I built it with a second hold down bolt at the rear of the machine, but it is almost inaccessible with the feeder flipped down, so I don't use it, and it functions just fine with the one.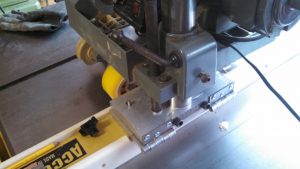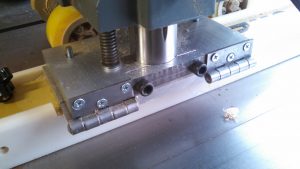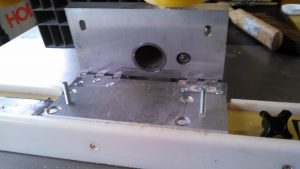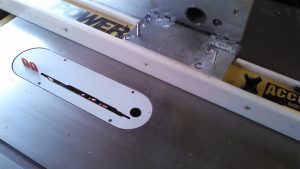 The last issue was that the KBWM drive, while a great little device, does not have a reversing option, so when feeding of material would go catastrophically wrong there was no way to back the material out of the blade.  Against the manufacturer's recommendation I wired up a forward/reverse toggle switch inside the control–as long as you don't try to change directions while it is running that is perfectly fine.
I really like this thing now.  It is great for running dadoes, it is pretty much required machinery for anyone who does repetitive work, or small pieces that are too dangerous to run by hand.  One thing is that the wheels might interfere with riving knives on other saws, and you absolutely need a riving knife for this thing, so I went with the micro-splitter jig, and it has worked okay so far.